World Heritage in Baden-Wuerttemberg


---
Maulbronn Monastery
---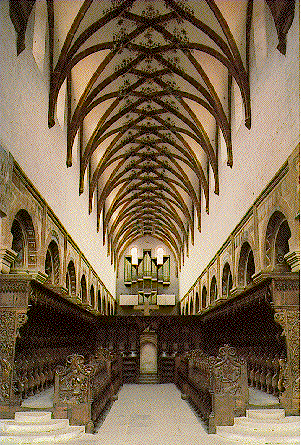 A view of the nave of the abbey church from the east. The choir stalls occupying the eastern end served the monks during the offices of the canonical hours. The monks had 92 single stalls at their disposal, with separating walls between them.
The choir stalls dating from around 1450 are richly decorated. The carvings point to the circle of the Ulm sculptor Hans Mulscher.
The Romanesque screen with the big stone crucifix in the back separated the monks from the lay brother in the western part of the nave. It is 3.2m high, stands between the sixth pair of pillars in the nave, counted from the west, and was erected around 1170/80. The modern organ with 39 registers at the western wall and the organ gallery were built in 1969-71.
When Maulbronn was a monastery once, the church was not open to the public, but it has served as Protestant parish church since 1547.
---


31 May 1996